The Austin Lounge Lizards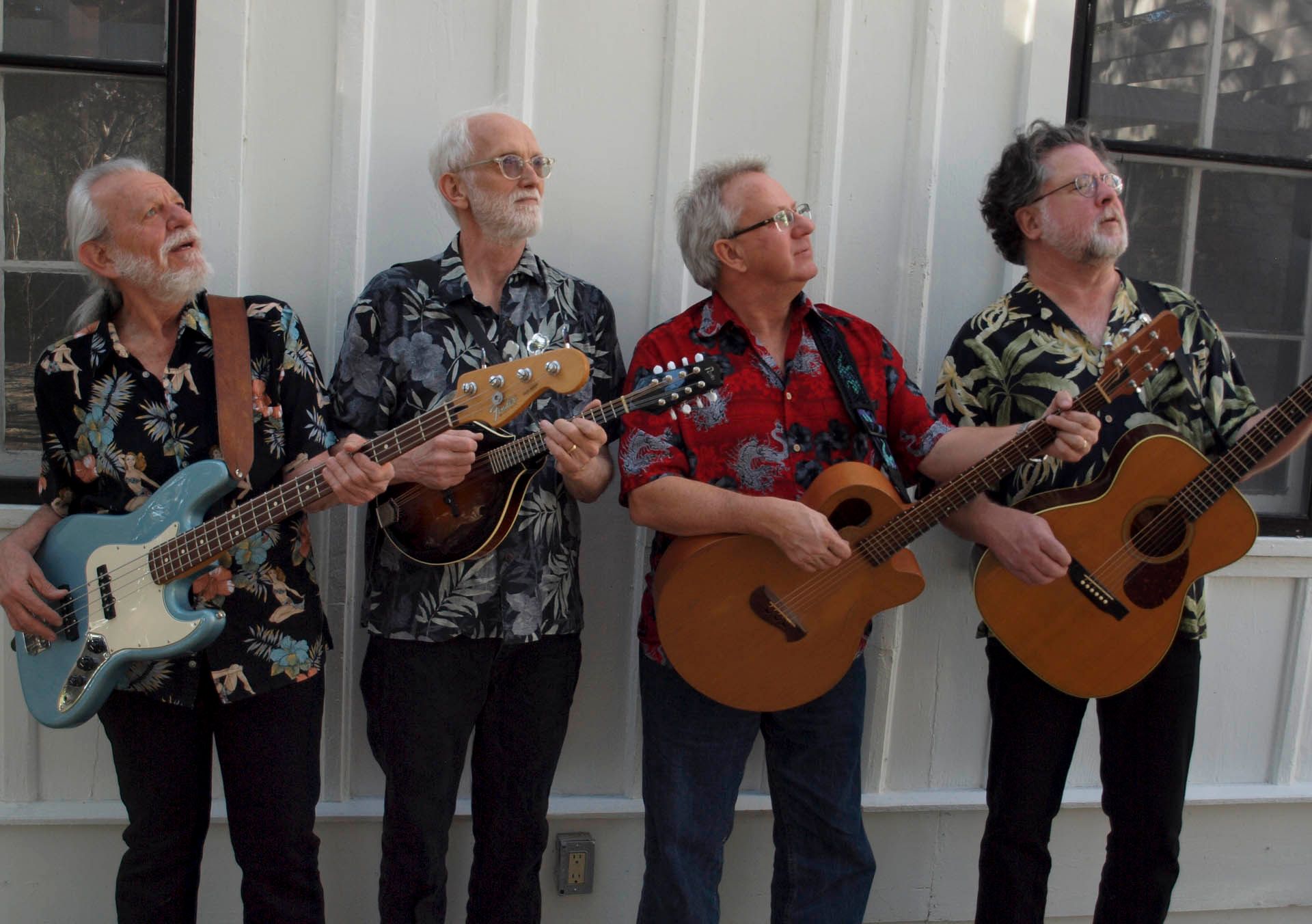 The Austin Lounge Lizards are arguably the perfect pairing of their hometown's slogan, "Live Music Capital of the World," and its unofficial motto, "Keep Austin Weird." Since 1980, the Lizards have been spoofing topics American families try to avoid at the Thanksgiving table: subjects like politics, religion, romance, and themselves. With pointed lyrics, precise harmonies and instrumental expertise, the band has become legendary for its satirical skewering through song.
The Lizards originated in 1976 in New Jersey, when Hank Card (vocals, rhythm guitar) and Conrad Deisler (vocals, lead guitar, mandolin) met as mutual history majors at Princeton University and started songwriting together. Following graduation, both Hank, a native Oklahoman, and Conrad, a Tex-Cali-Connecticut-Venezuelan, ended up in Austin. University of Georgia philosophy graduate and banjo/dobro player Tom Pittman completed the founding-troubadour trifecta in 1980, and the Austin Lounge Lizards was born.
With a series of talented fellow players and writers, the band began playing dates around Austin and across Texas. Soon, they had developed a widespread following of loyal Lizard fans, and by 1987, began appearing at festivals and concerts throughout North America and in the United Kingdom. Five-time winners at the Austin Music Awards, the Lizards have played many celebrated festivals, including California's Hardly Strictly Bluegrass and Strawberry Music Festivals, New York's Grey Fox and Florida's Stringbreak Festivals, Canada's Vancouver and Edmonton Folk Festivals and Summerfolk, the Americana and Iron Bridge Festivals in the UK, and the Kerrville Folk Festival close to their home in Texas. They have also performed at dozens of prestigious concert venues, including The Barns at Wolftrap (Vienna, VA), the Freight & Salvage (Berkeley, CA), the Kuumbwa Jazz Center (Santa Cruz, CA), John Ascuaga's Nugget (Sparks, NV), Eddie's Attic (Atlanta), The Ark (Ann Arbor, MI), Calgary Folk Club (Alberta, Canada), the Bass Performing Arts Center & McDavid Studio (Fort Worth), McGonigel's Mucky Duck (Houston) and Austin's own Cactus Café.
After more than three decades, in 2011, Tom retired from the band to his stately mansion in Asheville, North Carolina. But the Lizards continue.  Most recently, in December 2016, two former Lizards rejoined the group. The band is now made up of Hank, Conrad, Tim Wilson (fiddle, mandolin, vocals) and Kirk Williams (electric bass, vocals).
With their unique amalgamation of highly literate Ivy League roots; an appreciation for folk, country, bluegrass, and rock and roll musical styles; creative influences such as Frank Zappa, Spike Jones, George Jones, Homer & Jethro, and the Rolling Stones; and an unquenchable thirst for the absurd, the Lizards specialize in musical eclecticism, excellence and extreme entertainment.
Hank Card is one of the founding Lizards. He grew up in Oklahoma City, went to Princeton (not "prison," as commonly believed), where he met Conrad Deisler, and graduated from the University of Texas School of Law. Card is one of the main songwriters of the Lizards, unless you don't like their songs, in which case he is not. 
Another founding Lizard, Deisler has been monkeying around with music and electronics since the first grade. One of his earliest memories involves singing along with his mother's Electrolux vacuum cleaner. His first paying gig came in eighth grade. In 1974, he woke up at the Union Grove Fiddlers' Convention in North Carolina. Since then, he has been devoted to bluegrass and (real) country music. Influences include George Jones and Spike Jones, Frank Zappa and John Hartford, and Bela Bartok and Emmylou Harris. 
Kirk Williams was born in Louisiana and raised in the "Golden Triangle" area of Texas.  He began playing professionally at 16 with his own band, The Day Trippers, opening for such performers as Johnny Winter, ZZ Top, and soul singer Joe Tex.  He came to Austin in 1977 by way of Colorado (missed the turn off to Austin).  Playing in various bands, he joined the Lizards in 1987.  After 8 years and 5 albums, he retired from touring to play locally.  He is now back home "and deranged" with the Lizards.  Musical Inflluences:  Hank Williams, Ray Charles, the Rollling Stones, and the Beatles.
Tim Wilson was raised in Detroit, Michigan, but has lived much of the last 40 years in Austin.  He was a member of the Lizards from '83 to '85 and was a part of the first Lizards album.  He left to join the Chicago-based bluegrass band, Special Consensus.  After five grueling years on the road, he limped back to Austin and got a real job.  He rejoined the Lizards in 2016, singing and playing mandolin and fiddle.